SPONSOR AN ADOPT-A-BULL
How does sponsorship work?
FTTF literally couldn't do what we do without our wonderful foster homes. However, we hear from many people who cannot physically foster a dog but would like to help. We understand fostering is not possible for everyone, so our sponsorship program (formerly known as virtual fostering) is a great option for you to help a FTTF Adopt-a-Bull without the day-to-day commitment of fostering.
Through our sponsorship program you cover the cost of basic care for $70 per month, through a recurring donation automatically deducted each month for as long as you wish to sponsor your chosen dog. The length of your sponsorship is up to you and your contribution is tax-deductible! If your chosen dog is adopted, you may choose to transfer your sponsorship to another dog or cancel.
By participating in the FTTF sponsorship program you can directly make a difference in the life of one of our Adopt-a-Bulls and provide support for the rescue to continue to save more dogs!  Contact us to learn more about sponsorship or begin sponsoring the dog of your choice today!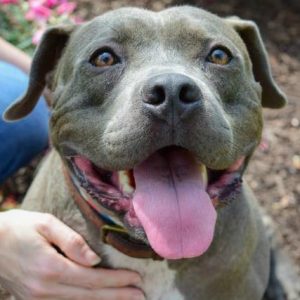 CHARLIE BLUE
Charlie Blue is sponsored by Michael Schimmang.
Charlie's young owner sadly passed away and the family did not want to keep him. Thankfully, we had a foster family step up for this sweet boy so we were able to take him into the program.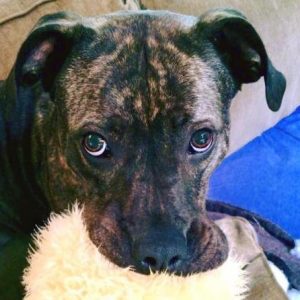 REY
Rey is sponsored by Brenda Hall.
Rey was found after being hit by a car and was brought into a local shelter. Her lower rear leg was broken in several places and was surgically repaired by our vet, but she is now healthy and ready for a home of her own.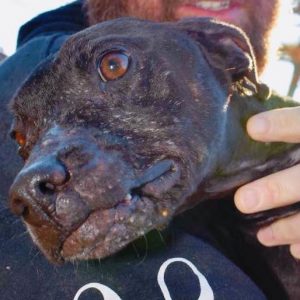 FABIO
Fabio is sponsored by the Vaughn Family.
Fabio came from a cruelty case, a black pitbull with many scars. Although most would look at him and be frightened, Fabio is a handsome boy to us. He will be ready for adoption when he is fully vetted.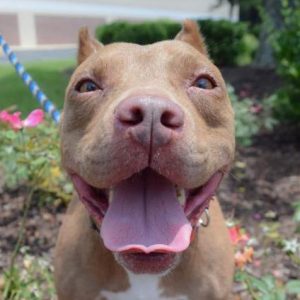 ARIA
Aria is sponsored by Julie Meloche.
Aria & her puppy were taken into an animal control facility that does not adopt out bully breeds. We pulled the family and her baby was adopted shortly after. Aria is full of smiles and ready to light up your life.
BLONDIE
Blondie was adopted 7 years ago, but her Dad relocated out of the country and couldn't bring her. Her original foster Mom took her back & she is one of the most well mannered dogs around.
Sponsor Me!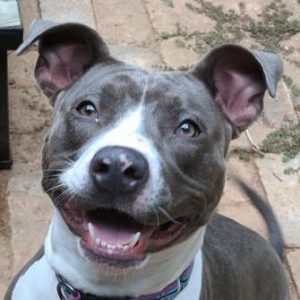 HAILEY
Hailey is sponsored by Samantha Jaynes.
Hailey ended up at a rural AC, scheduled to be euthanized because the shelter was full. She caught the eye of one of our fosters so we pulled her in hopes she could find a wonderful family one day.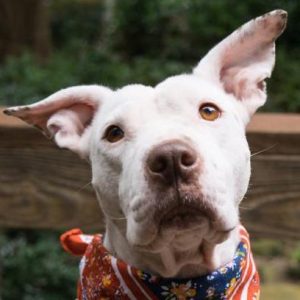 STELLA 3
Stella was suspected to be pregnant, but it turned out she wasn't and instead actually had a horrible case of heartworms. She is now healthy and ready to be your running partner or couch buddy.
Sponsor Me!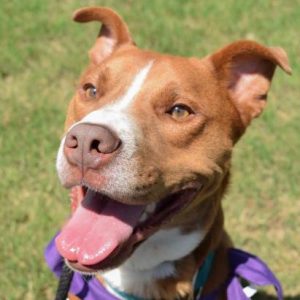 BRADY
Brady is sponsored by Ellie Nishimoto.
Brady was loved by his owner, but they both ended up on the streets and was turned into the shelter when his owner could no longer care for him. This lovable guy is in a great foster home, dreaming of a forever family.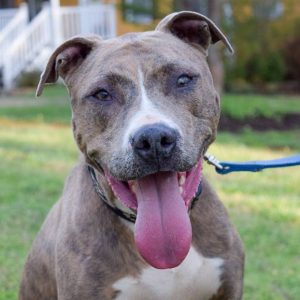 SAMPSON
Sampson and his mom came in as part of a cruelty case in 2013. Previously adopted to a wonderful family, Sampson was returned earlier this year when his military dad was stationed overseas for an indefinite time.
Sponsor Me!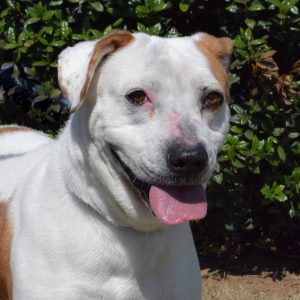 STELLA
Stella is sponsored by Anne Reed.
Stella was found living outside in a hole she dug in the dirt. She was filthy, neglected, and scared, with health issues and demodex mange. However, now she is a happy girl and fun-loving Forlorn dog.
MOMMA
Momma is sponsored by Tracy Coward.
Momma's owner passed away in 2011. Arrangements had been made to bring her and her brother into the rescue at that time. Her brother found a home right away, but Momma is still in foster.
BUZZ
Buzz is sponsored by Beth Moseley.
Buzz is a laid-back, gentle giant weighing over 80 lbs. He loves affection and is happiest relaxing on his bed or rolling around in the grass! He has megaesophogus which is handled through diet.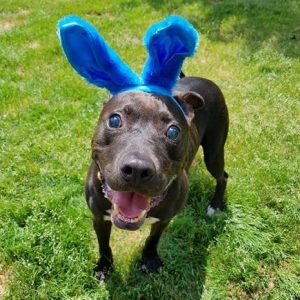 BLIND JOEY
Blind Joey is sponsored by the Shpigel Family.
Joey is a happy boy who is loving life in his foster home! He is currently undergoing heartworm treatment and will be available for adoption when he is fully recovered.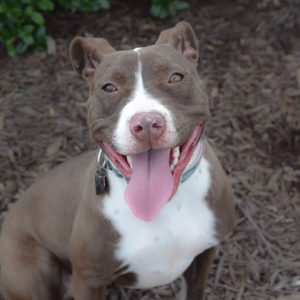 RIBLETT
Riblett is sponsored by Jennifer Williams.
Riblett is a sweet little pocket pittie who is a little shy at first, but sweet as can be. She does best in an only-dog home but will make a great companion and best friend for a lucky family.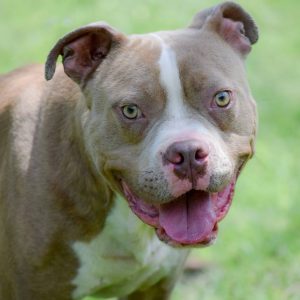 SMUDGE
Smudge is sponsored by Joan Gutermuth.
Smudge has been wth FTTF looking for his forever home since 2016. If you're looking for a pup to make you laugh, he's your guy! He is a goofy guy who loves to play around.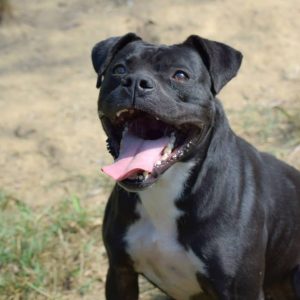 KALI
Kali is sponsored by Barbara King.
Kali has been with FTTF for nearly 4 years, since she was a small puppy. She is a fun-loving, energetic girl who loves playing. Kali was born to be someone's running or hiking partner!
TONYA
Tonya is sponsored by Lisa Chaisson.
Tonya had an injury to her rear right paw and a horrible case of kennel cough when she first came to FTTF. She is now a happy, healthy girl, packed with personality and energy. She loves to run and play!
STONE
Stone is sponsored by Jacqui Howington.
Adopted from AC, Stone was passed around until he found himself back in AC again. We were able to give him some stability and, though his size can be intimidating, he is really a silly guy. Stone is a permanent FTTF foster & resident at the Pitbull Palace.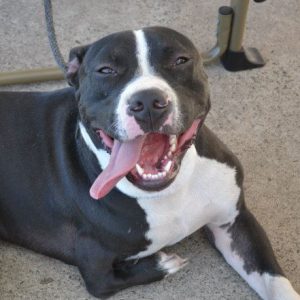 STUBBS
Born without an elbow, Stubbs front leg is unusable. He still is able climb stairs and zoom around. He is a goofy boy with a big smile! He does well with other dog, but his favorite thing is human affection.
Sponsor Me!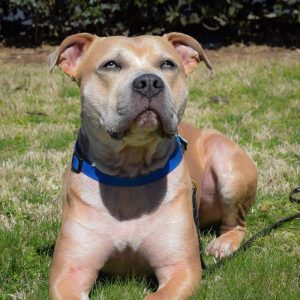 DENO
Deno is sponsored by Iris Grimm.
Deno is a handsome boy now, but he wasn't as handsome when he first joined FTTF, covered in ticks, oil, and a bad case of demodex mange. Now he is playful, obedient and loves hiking and car rides!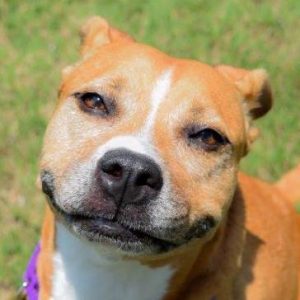 SUNNY
Sunny is sponsored by Iris Grimm.
Sunny had a rough start, coming to us with healed injuries and appeared to have been bred many times. However, this sweet mama is calm, well-mannered, great with kids and now looking for her perfect family.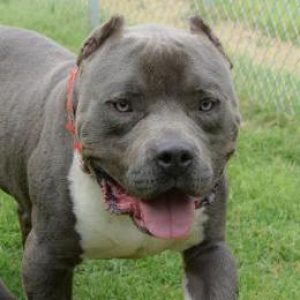 RUBBLE
Rubble is sponsored by Bill Stanley.
Rubble was picked up as a stray and ended up in a shelter that doesn't adopt out pitbulls. Luckily, FTTF came to his rescue and is playing at the Pitbull Palace while he waits to find his forever family.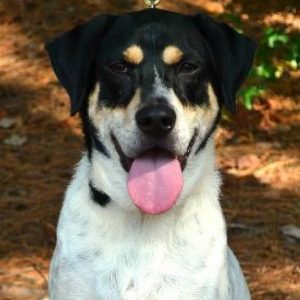 DEEBO
Just a tiny with pneumonia in 2013, Deebo was the only one from his litter to survive. He is a very energetic guy and is is now cared for at the pitbull palace where he gets lots of love and playtime.
Sponsor Me!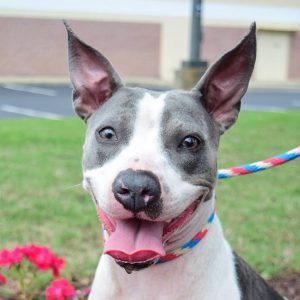 RAVEN
Raven was found as a stray after her owner let her loose when she couldn't keep her where they lived. He is a happy-go-lucky girl who enjoys playing and riding in the car. She loves people, dogs, and even cats!
Sponsor Me!
SQUIGGY
Squiggy is sponsored by Crystal Cash.
After being held in a cruelty case, Squiggy was finally released to FTTF. He's a small, pocket pit packed with a big personality! Squiggy is always happy, affectionate and giving kisses out freely.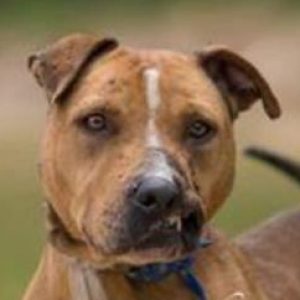 SARAH
Rescued from a dog fighting bust, Sarah has been through hell and back. Despite her scars and old injuries, she has thrived during her time at the Palace with FTTF. She is now a happy girl and loves everyone!
Sponsor Me!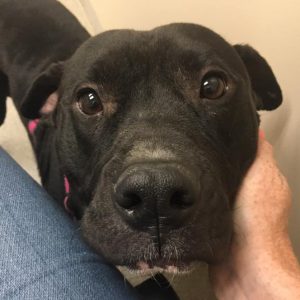 LACEY
Lacey is sponsored by Elizabeth Varela.
Dumped and completely hairless, Lacey needed help. Now she is living with her foster and getting the help she needs for her skin. She is a friendly girl loving all creatures big and small!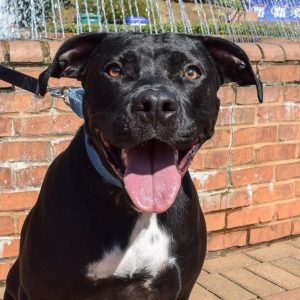 TYSON
Tyson is sponsored by Kristi Shiver.
Confiscated in a cruelty case, Tyson was in poor health, the worst being diagnosed with a heart condition, Valvular Pulmonic Stenosis. He is not fully cured, but that doesn't stop his playful antics!
BOBBIE
Bobbie is sponsored by Stephanie Stanley.
Bobbie is a very sweet and loving. He was rescued from a dog fighting ring in 2009 and released to rescue after his owner plead guilty. Always smiling, Bobbie continues to look for a forever home.
CLYDE
Clyde is sponsored by Whole Nutrition.
Dumped in a park, Clyde was picked up by another rescue. He became a Forlorn dog when he was at risk when his adoptive parents were deployed. He is a big, happy guy that loves getting his belly rubbed.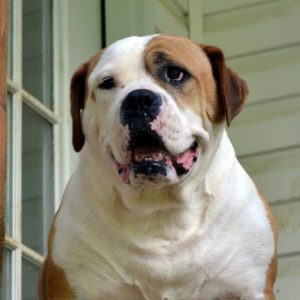 GINGER
Ginger is lovingly sponsored by Brian & Tina Drummond.
After her owner's death, Ginger became scared and irritable toward those trying to care for her. However, once Jason brought her home her demeanor changed. Now she is low-energy and easy to care for.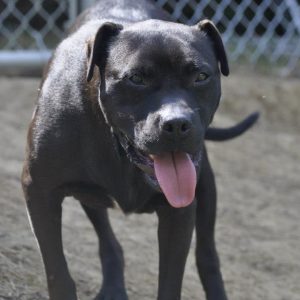 KYLE
Kyle is sponsored by the Jablonowski Family.
Seized from a dog fighting ring and held in a legal battle, Kyle spent years in boarding. Once the court case was over, Kyle was scheduled to be put down and came to us. He will steal your heart with his kisses.
GWEEB/BUDDY
Gweeb is sponsored by Melissa Zafirelis.
Gweeb was the runt of a litter living outside in very cold, poor conditions. He would not have made it without the intervention of rescue. He is an awkward goofball who keeps you laughing with his antics.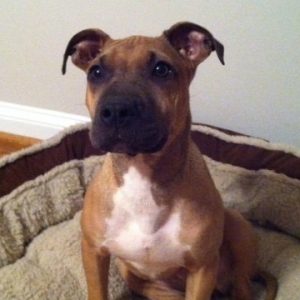 CLEO
Cleo is sponsored by Melissa Mastroni.
Cleo was part of a litter of pups who came into the rescue a couple years ago. She's a beautiful girl with fur like velvet and very smart. Shy at first, Cleo is sweet as can be once she warms up to you. Cleo is a permanent FTTF foster & resident at the Pitbull Palace.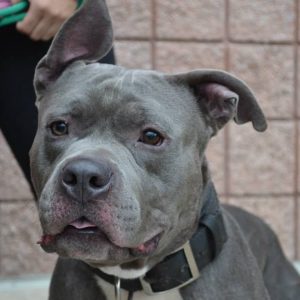 BOSS
Boss is sponsored by Linda MacIntyre.
Boss was rescued after his owner committed murder. He was adopted but returned after he ruptured a disc, needing emergency surgery. He pulled through, with just a wobbly gait to show for it! Boss is a permanent FTTF foster & resident at the Pitbull Palace.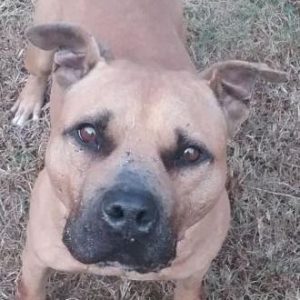 JIGSAW
Jigsaw is sponsored by Greg, Greg, Ray, and Alicia of Hybrid Impact Fitness.
Jigsaw came to us from a dog fighting bust in Macon, Ga in rough shape with a rougher past, but you wouldn't know it from all of his tail wags and smiles. From now on, all this fun guy will know is love!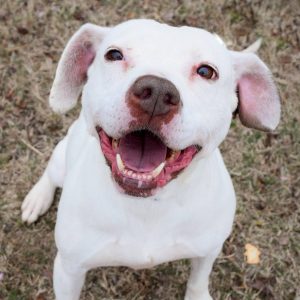 SHELBY
Shelby is sponsored by Christie Williams.
With wiggles and enthusiasm, you'd never know Shelby arrived in bad shape after being used as a bait dog. She doesn't meet a human stranger, but her past keeps her from doing well with other dogs.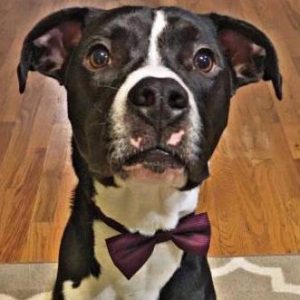 ZIGGY
Ziggy is sponsored by Holly Williams.
Ziggy was surrendered with partially-healed fractured legs when he was only 4-months-old. Today, he is a fully healed, goofy boy who loves to run, play, and even watches TV in his foster home.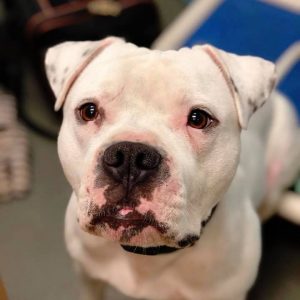 ZETH
Zeth is sponsored by Audrey Shoemaker, Ellie Maki, and Morganne Struble.
Zeth was a staff favorite and office dog before he became part of the Forlorn Family. This goofy lovebug was saved just in time and loves hanging out at the Pitbull Palace while he waits for his forever family.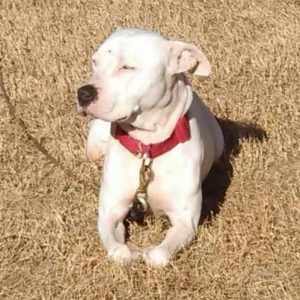 HOLLY
Holly is sponsored by Jerry Nuss.
Found on the side of the road in bad shape, it took Holly a while to heal physically. She still shows the emotional scars when meeting strangers but once she trusts you she is a very loving girl.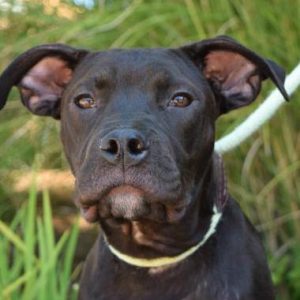 NUGGET
Nugget is sponsored by Laura Bailey.
Nugget was abandoned in a vacant subdivision with his siblings when they were puppies. His siblings have since been adopted but, Nugget is still looking for a permanent lap to curl up in.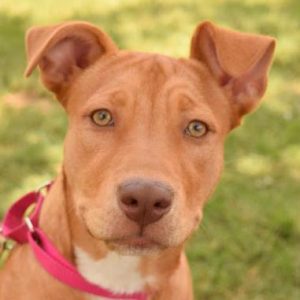 QUEENY
Queeny is sponsored by Iris Grimm.
Queeny was born in the animal shelter after her mom was confiscated during a drug raid. The only surviving pup, she is a very happy and well-behaved young girl just waiting for a family of her own.